Ordering cannabis seeds online for the first time can be a nerve-racking process if you don't know what questions to even ask to evaluate what are the best seed banks. With all of the legal nuances combined with the overwhelm of now knowing which seeds to buy, it's nice to have some background information before diving headfirst into the process. You want to make sure you're shopping on trusted websites that will ensure your privacy and sell you high-quality seeds.
Browse through any cannabis grower forum and you'll quickly learn that there are some common issues associated with buying seeds online. From missing packages, to poor quality seeds, and unresponsive customer service, choosing the right online seed bank can help you avoid all of these issues.
To help you find the best seeds from the most trusted sources, we've rated each of the 10 best online seed banks based on several core criteria. We also included a seed bank FAQs section to answer some of your questions about buying cannabis seeds online. Here you will find everything you need to know about buying marijuana seeds online, including how to identify a trusted online seller, what rules to be aware of, which seeds to choose, and more.
Short on time? Check out our favorite seed banks by location:
This guide to cannabis seed banks covers ten of the top marijuana seed banks in the world–but focuses mostly on seed banks that ship to the USA and Europe. Read on for the team's opinion (none of which constitutes legal advice—there is no legal advice anywhere on this website or page).
Product
Details

1. Herbies Seeds

Worldwide Shipping

Great Pricing & Regular Sales
Extensive Seed Selection

Shop Herbies USA ExpressShop Herbies Worldwide

2. ILGM

Ships Exclusively to USA

Germination Guarantee
Comprehensive Growing Resource
More Premium Pricing

Shop ILGM

3. MSNL

Worldwide Shipping

Operating Since 1999
Free Seeds with Every Order
Massive Inventory

Shop Marijuana-Seeds.nl

4. Crop King Seeds

Worldwide Shipping

Canadian Seed Bank
In-house Seed Breeder
Unique & Medical Strains

Shop Crop King Seeds

5. Rocket Seeds

Semi-Worldwide Shipping

600+ Strains Available
80% Germination Guarantee

Shop Rocket Seeds
The Best Seed Banks to Order from Online in 2023
#1 I Love Growing Marijuana (Editors Choice)
| | |
| --- | --- |
| Website: | ilgm.com |
| Shipping: | USA only |
| Accepted Payments: | Bitcoin, Cash, Debit & Credit Card, Bank Wire |
| Customer Service: | Excellent |
I Love Growing Marijuana (ILGM) started out as one man's passion project and grew into one of the most trusted online sources for cannabis seed and growing knowledge. Among the world's most popular online seed banks, marijuana growing expert Robert Bergman founded ILGM in the Netherlands after growing and experimenting with his own strain development.
Since its start in 2012, ILGM has now grown into a center for sharing information on growing. Now it has become both a beginner-friendly cannabis seed bank and a source of expert knowledge.
What we love about them
Seed Quality
ILGM guarantees that your seeds will germinate if you follow their guide, and if they don't, you get your money back.
Knowledge base
ILGM has an entire selection of guides and strain databases with one hundred and seventy-three pages at the time of this writing, so it's easy to muse through the world's best varieties to find the ones that will work for your grow. There is also a very active forum you can turn to for expert advice.
Huge Selection
Compared to a best seed bank pick like Seedsman, ILGM actually doesn't have the biggest selection—so you may have to supplement occasionally for something very unusual. But with dozens of strains on offer, it's still an impressive spread of prolific strains.
ILGM offers feminized, fast flowering, and autoflowering strains as well as regular strains, and you'll find all the classics. For example, seed selections include Bergman's Gold Leaf, Cheese, Durban Poison, Jack Herer, Northern Lights, OG Kush, Purple Haze, Trainwreck, White Dream, White Widow, and ILGM's own Gelato and Gorilla Glue cultivars.
Customer Service
ILGM wins at customer service, and not just because they do guarantee their products. They also invest substantial time and energy into responding to customers online and otherwise, and it shows in their Trustpilot reviews, for example. And if for any reasons customs comes down on you, ILGM will send you replacements for what they confiscated for free.
Great Shipping Capabilities
Although they are a Dutch company, ILGM currently only ships to the United States with free shipping on every order. They used to sell the best cannabis seeds in Australia but recently removed that country as an option due to deliverability difficulty with customs.
ILGM is our team's top choice for best online seed bank, and here are some bonus tips:
Bonus: Use the free ILGM Grow Bible which can assist you even if it's not your first grow.
Bonus: Purchase with Bitcoin for a 10 percent discount.
#2 Crop King Seeds (Canada) – Best Canadian Seed Bank
| | |
| --- | --- |
| Website: | https://www.cropkingseeds.com |
| Shipping: | Worldwide |
| Accepted Payments: | Bitcoin, MasterCard, Visa, and Interact E-Transfer |
| Customer Service: | Excellent |
Operating out of Vancouver, Crop King Seeds (CKS) has been around since the mid-2000s. In addition to their range of popular cannabis seed varieties, they also offer more than 30 unique in-house strains that Crop King engineers have cultivated over time.
What We Love About Them
Guarantee
CKS stands by their seeds. They guarantee a germination rate of at least 80 percent. They will also replace your package for free if it doesn't arrive, or if you don't like what you received.
Exclusivity
All of Crop King Seeds's in-house strains, and there are more than 30 of them, cannot be found anywhere else. Like most of the higher-end seed banks, they sell CBD strains, medicinal varieties, and feminized, regular, and autoflowering seeds.
Ease of Use
Crop King Seeds makes it fast and easy to order cannabis seeds online. The site is easy to use—just follow the prompts. Search using the filters, including seed type (auto-flowering, feminized, regular), strain type (hybrid, indica, sativa), and THC level.
Privacy
Crop King takes privacy seriously. Although marijuana seeds are legal in Canada, even there orders ship in unmarked envelopes. In the rest of the world, CKS basically ships in "stealth" mode, encasing your order inside pens, DVD cases, whatever. Crop King Seeds is also among the few seed banks—and businesses—that does not save your payment information.
Bonus: Subscribe to the newsletter for special discounts, news, and coupons.
#3 Rocket Seeds – Largest Variety of Seeds
| | |
| --- | --- |
| Website: | https://rocketseeds.com |
| Shipping: | Worldwide |
| Accepted Payments: | Visa, MasterCard, Bitcoin, Cash, PayPal, E-check, Money Transfers |
| Customer Service: | Good |
This is another excellent option with a really huge selection. If you want to buy seeds for all of those famous strains you know and love, Rocket Seeds has you covered. Operating out of New York, This is a reliable seed bank that will respond to you.
What We Love About Them
High Quality Seeds
Rocket Seeds sells seeds you can trust with solid genetics. They do have a germination guarantee if you follow their guide, which is helpful.
Reliability
Oftentimes when you use a seed bank you are probably wondering if they're going to take your money and send you low quality merch, or anything at all. You don't ever have to worry about that stuff with Rocket, which has been around forever, delivering. Plus all shipping over $200 is free, and you can even get express registered shipping if you want an extra layer of security. Even reshipping to Australia is only $10.
Lots of Payment Options
Rocket Seeds has probably the most payment options of almost any seed bank, which really makes it convenient for almost anyone to get started growing cannabis.
Choice
Did we mention there are a LOT of seed varieties to choose from? Feminized seeds, autoflowering seeds, CBD seeds, and fast version seeds along with regular cannabis seeds in tons of strains—literally hundreds of choices, hundreds of new strains to get excited about.
Bonus: Orders over $420 get 10 free seeds.
#4 DC Seed Exchange – Best Autoflower Selection
| | |
| --- | --- |
| Website: | DCSeedExchange.com |
| Shipping: | US only at this time |
| Accepted Payments: | Debit Cards, CashApp, eChecks, Bitcoin and other crypto, cash, blank money orders |
| Customer Service: | Great |
What We Love About Them
Scientific Skill, Artisanal Talent
The top reason we added DC Seed Exchange to this list is that the team and its in-house team of seed breeders is a persistent fan favorite. The DC Seed Exchange is a collective of small, high-end boutique cannabis seed breeders, and these people really know their business. The cannabis geneticists growing these strains generate some creative, high-quality, successful cultivars that demonstrate their deep understanding of the cannabis plant's genetic features.
The DC Seed Exchange team also understands how to protect and care for cannabis seeds, and shield them from pests and common diseases. The growers in this network do real research and development, and that's why they consistently breed great quality cannabis seeds which produce well. If you're looking for unusual phenotypes, this is a great place to start.
Quality
The scientific team brings an attention to detail that extends to the rest of the DC operation. Every seed receives a strict inspection before shipment and DC will ultimately send you only the best.
Rare, Exotic Genetics
DC Seeds sells dozens of cannabis seeds, including some you will never have heard of, even being on the cannabis scene for years. Try some Chick Magnet (PuTang x Swabi Pakistani) or Forum Stomper F4 3 (Girl Scout Cookies x Sour Stomper), for example, and see what people who actually know how to grow cannabis for a living want to smoke.
Access to Smaller Breeders
This is kind of the best way to get seeds you could never lay your hands on otherwise, because they're not mass-produced.
Bonus: Sign up for the newsletter for discounts.
#5 Multiverse Beans – Rarest Selections
Multiverse Seeds is all about the love of the plant itself.
What We Love About Them
Mixing it Up
This is a great place to shop when you want to see some smaller breeders and some of the biggies, too. Here you can buy some hard to find strains alongside classics like Afghani Kush, Banana Kush, or Big Bud from the likes of Sensi Seeds. And you can also find awesome mashups from Ethos Genetics like Mac N Jack or Lilac Diesel. Really, it just runs the whole spectrum from the classic strains everyone likes to rarer things you can't find just anywhere.
Single Beans
Yes, if you want them, you can order a few varieties one by one! Of course they also have great bundle packs here too.
Bonus: They will reship in the US if your package doesn't make it.
Tip: Email them for questions and support, they are responsive.
What Makes a Good Seed Bank?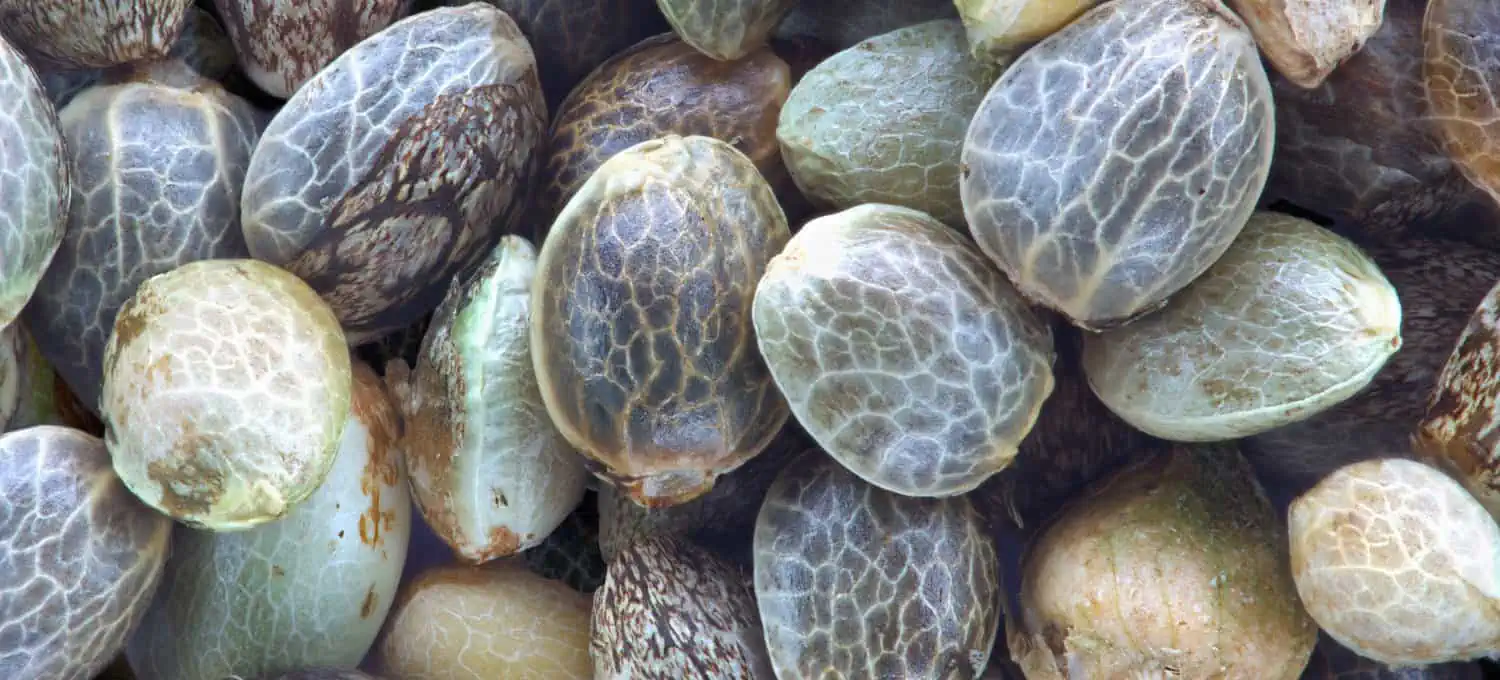 If you're hoping to buy marijuana seeds online, the best seed bank may be difficult to identify. When defining what makes a good seed bank, keep these core criteria in mind.
Shipping
Worldwide shipping (including US and Canada)
Discreet shipping choices, including stealth shipping options
Reliable shipping, ensuring most shipments reach customers when promised
Reputation/Service
Reliable seed banks have strong market reputations, reflected in reviews and forum performance
Responsive customer service
Generous policies including refunds for damaged, missing, or poor quality seeds
Variety/Quality
Good variety of weed seeds or "strains"
High-Quality Seeds
Each seed described in detail
Customer reviews for the seed varieties
Value
Discount section with sales
Broad spectrum of promotions that work for you
Rewards/loyalty program
Ease of Use
Do they accept multiple currencies?
Do they accept multiple payment methods?
Is the website searchable?
Are the shopping functions smooth, easy-to-navigate, with secure checkout options?
Seed Bank Strategies: Tips and tricks for ordering cannabis seeds online
If you want to get the most from your online seed bank, keep these seed bank tips and tricks in mind:
Stick to Feminized Seeds
Feminized seeds yield three to five times more than autoflowering varieties (and forget regular seeds unless you have a special purpose). There are a couple of reasons to go with auto-flowering seeds: for beginners, inside growers that want to grow without a lamp—on a windowsill, for example—or for a quick, stealth growing season outside, use autoflowering seeds. Otherwise, stick to normal feminized seeds and suffer fewer duds and less wasted time.
Try a Test Run
If you've never used a certain seed bank, make your first order smaller. This way you can see how it goes, and what the seed quality is like.
Check the Shipping Fine Print
Among online seed buyers who have had bad experiences, shipping times are a top complaint. Many of these can be resolved by reading the fine print on shipping, closely. And realize: seed banks that are further away, in the EU if you're in the US, for example, just take longer.
Research and Invest in Customer Service
Sooner or later, every single seed bank, no matter how great, is going to ship you seeds that won't germinate. Every once in a while, even the most diligent shipper is delayed. This is why customer service will always matter.
Know What to Look for in an Online Seed Bank
To ensure your seeds are the highest quality, make sure your seed bank employs or works with breeders who understand plant genetics, and how seed origin relates to plant quality. Seed banks should be transparent about where they source seeds, how their seeds are produced, and whether they are crossed or backcrossed.
Less experienced breeders may fail to achieve the genetics they were intending, and they may or may not know that. To confirm results it's important to conduct backcrossing tests, or you can produce hybrid strains that are difficult to identify. Transparency and the ability to trace seed origin protects you from sub-par breeding results.
Choose Varieties Wisely
If you're a novice grower, some marijuana strains might be a bigger challenge than others.
Play the Numbers
Even the best quality seeds will have some percentage that fail to germinate. If you're less experienced, buy two or more times as many seeds as you need to grow to make up for the seeds that fail to germinate and the plants that die off. (And remember, make sure you've checked the local, state, and national laws where you are.)
Is It Legal to Buy Cannabis Seeds?
Cannabis seeds are still classified as marijuana products by the US federal government, even though they cannot induce psychoactive effects, and are not fully-bloomed plants. Regardless, cannabis seeds are legally in the same category as concentrates, edibles, flowers, and oils.
This means the laws of your specific US state control the legality of buying cannabis seeds online—but only inside that state. Most recreational states and some medical marijuana states allow either any adults, adults over a certain age, or medical card holders to purchase seeds inside state lines.
However, because of federal law, cannabis seeds can't cross state lines, no matter where you buy them, or why. Cannabis, as a Schedule I drug, also cannot be imported from outside the US, including in seed form.
Check local, state, and national laws first, before you buy cannabis seeds online. Protect yourself from legal exposure.
Buying Cannabis Seeds Online Safely
Especially if you've never bought from an online cannabis seed company before, you may not be sure what to expect, and it may all seem risky. Here are some facts and suggestions to help you through this:
US customs laws don't place you on a black list for cannabis seeds. If your package gets confiscated, you lose money in some cases, because your seeds get thrown out. Either your seed bank will or will not replace them—and most will. Sometimes, CBP will send you a letter explaining why they kept your package.
People order cannabis seeds online daily, at relatively low legal risk. On the other hand, you never know who will be targeted or how the law is changing state to state, unless you're an expert.
Go local with your research. Where do growers in your state like to buy their cannabis seeds? Research cannabis seed banks in your state. Find online forums to get more feedback about your seed bank options.
Online Seed Bank Payment Methods
Before you make that large purchase from a new seed bank, consider all of the payment options. Online payment platforms such as PayPal and Stripe do not support cannabis seed banks due to their terms of service.
In some cases, credit card or debit card payment may be your only option. Credit cards tend to offer more consumer privacy and purchase protection than debit cards, so choose wisely. And remember, notify your bank if you don't typically make purchases outside the country.
Some seed banks will accept cash sent to them, but this is risky. Remember to check that they accept your currency, in cash or otherwise. As well, lost cash cannot be recovered, and disreputable sellers can scam cash buyers very easily.
The most efficient payment option for buying cannabis seeds online may well be cryptocurrencies such as Bitcoin. In fact, some seed banks offer discounts for Bitcoin shoppers.
Digital currencies like Bitcoin are efficient and fast, clearing instantly. They also offer total financial freedom, allowing you to pay for cannabis seeds anywhere around the globe, anytime. Finally, Bitcoin transactions are totally private and secure.
How Much Do Cannabis Seeds Cost Online?
Typically, one pack contains 10 to 12 seeds total. Depending on the type of seeds, the seed bank, and the quantity, you could spend anywhere from US$50 to US$500 per package or more.
For genetically-modified seeds, unique cultivars, or specific strains you might pay much more than US$500. And remember, this is just the base cost of the seeds. You'll also need to cover customs and/or shipping feeds if you're ordering internationally.
Read Also: Cheap Cannabis Seeds: 15 Options for Marijuana Growers
What Types of Cannabis Seeds Can You Buy Online?
One of the best things about buying cannabis seeds online is the array of choice. However, this means you need to understand what's out there, and what the differences mean for different growers.
Here are a few of the different reasons for choosing regular seeds, autoflowering seeds, and feminized seeds, and some pros and cons of each.
Regular Seeds
Naturally growing cannabis plants produce regular seeds. The offspring from these seeds are typically about fifty percent male and fifty percent female—the female variety being the kind that produces the cannabis "flowers" or buds. You can't tell in advance what you'll get, but you're certainly going to have many plants that will not flower.
On the other hand, regular seeds are often purer—the landrace varieties, for example. These have not been backcrossed or inbred as much, so some growers prefer them. Just remember to plant extra seeds to cover the loss of the male plants.
Read Also: High THC Marijuana Seeds
Autoflowering Seeds
Autoflowering cannabis seeds are very simple to grow and they germinate reliably. After some number of weeks—usually fewer than other seed types—they simply enter the flowering phase.
Autoflowering seeds can flower automatically this way as they age even when they get more or less light. This makes them a good choice for beginners in particular who can't use grow lights, or prefer to grow outside but don't have much of a growing season.
In the bad old days, autoflowering seeds were always poorer quality, with less bountiful yields, compared to other seeds. But these days, more autoflowering seed varieties yield impressive crops of high-quality medicine.
One drawback to autoflowering seeds is limited harvest size due to size. Feminized seeds produce three to five times more, typically.
Feminized Seeds
Feminized seeds are simply cannabis seeds that are all female. Typically, male cannabis plants pollinate female plants and seeds develop. However, when male plants are not available, female cannabis plants can self-pollinate. If there are no male chromosomes present during pollination, the plant does not produce any male seeds.
The benefits of using feminized seeds include saving lots of time and money. Male plants can reduce your yield because they pollinate your females. Instead, you'll have to catch and weed them out at the right age, and then you're left with spaces where you could have a viable plant.
So although feminized cannabis seeds cost more (until you learn how to feminize your own seeds), you also get a flower-producing plant from every single seed you germinate. Assuming you buy from a quality seed bank, that's more for your money.
How to Know Your Cannabis Seeds are Real
There's nothing worse than spending the money and going to the trouble of choosing seeds and placing an order, only to get ripped off with fake seeds. At least you can tell whether your cannabis seeds are real before you spend time planting them.
Marijuana seeds look dark brown. They often have light-colored or white stripes, depending on how they are coated. If you rub the coating off, you see the lighter-colored seeds.
This doesn't mean that light seeds without a coating aren't real. It could mean the seeds have been handled a few times, or that they just didn't grow a coating. However, coating is typically a good sign.
Evaluate the seed bank's website before you order at all. Scam sites do exist, and it's worth your trouble to research the brand.
Read Also: Buying Cannabis Seeds in New York
Final Thoughts: Best Online Seed Banks
Whether you want to improve the genetics of what you're already growing or you're just hoping to grow from the highest quality cannabis seeds, it's important to know where to start.
Many online cannabis seed banks may let you down–but not the ones on this list. The best seed banks of 2023 can cover just about any grower out there today.
Regardless of where you live, Herbies Seeds will take great care of your needs. If you're in the US, click the following link to go directly to their Herbies USA Express website.