If you're a resident of The Show-Me State and interested in growing your own cannabis plants, you may be wondering where to buy marijuana seeds in Missouri.
Missouri has seen significant changes in its cannabis laws in recent years, with the legalization of both medical and recreational cannabis. This has created a growing interest in home cultivation, prompting many to seek high-quality cannabis seeds for their personal gardens.
So, let's dive into the world of cannabis cultivation and discover the best avenues to acquire your marijuana seeds.
Online Seed Banks That Ship to Missouri
In recent years, the cannabis industry has witnessed a surge in popularity, with an increasing number of individuals interested in growing their own marijuana plants.
If you're thinking of buying Missouri cannabis seeds, online is your best bet. It offers a convenient experience, so you don't have to hop from one dispensary to another.
Another good thing about an online seed bank is that you can find more cannabis strains. Some even have built-in features for quick comparisons or quizzes that can help you pick the right marijuana seeds.
Not to mention, online platforms often have competitive prices. The cost of operations is lower since they do not have to pay for physical space as their store.
This seed bank has earned its name as one of the most reputable and trusted seed banks in the industry. With over a decade of experience, ILGM has been providing high-quality cannabis seeds to customers worldwide since 2012.
They are known for their commitment to quality, offering seeds with a 100% germination guarantee, ensuring that your seeds will successfully sprout into healthy plants.
ILGM's extensive selection of cannabis strains caters to various preferences and needs, making it a favorite among growers seeking specific genetics for their cultivation projects.
Another good reason to buy weed seeds from ILGM is that it offers free shipping on all orders. No need to meet a minimum amount to qualify!
With over ten years in the industry, Herbies has garnered a strong following for its commitment to delivering exceptional cannabis seeds.
They offer an extensive catalog of over 1,500 different strains from global breeders, ensuring that growers can find the perfect genetics for their projects.
Herbies is also known for its customer-friendly approach, providing free seeds with every purchase and allowing customers to choose bonus seeds based on their spending, making it an attractive option for those looking for value and diversity in their seed selection.
Local Seed Bank Stores in Missouri (Not Recommended)
The Legality of Marijuana Seeds in Missouri
Both recreational and medical cannabis have been legalized in Missouri.
On December 8, 2022, cannabis became a legal substance for adults aged 21 and over, allowing for recreational use. This was through Amendment 3 in the state's constitution.  
This made Missouri the 21st state in the U.S. to permit recreational cannabis consumption, enabling individuals to buy, possess, deliver, and use cannabis legally.
Additionally, medical marijuana was legalized earlier, with dispensaries receiving the green light to expand their medical-use offerings.
This dual legalization represents a significant shift in the state's approach to cannabis, providing broader access to both medical patients and recreational users. Hence, many also wonder if they can legally buy and grow Missouri marijuana seeds.
Is it Legal to Buy and Grow Cannabis Seeds in Missouri?
Yes, you can legally buy cannabis seeds in Missouri. While it's legal to possess and grow cannabis plants, individuals are required to obtain a cultivation permit to do so legally. 
This means that you can purchase marijuana seeds for personal use, but you must adhere to the regulations and obtain the necessary permits to cultivate them within an enclosed locked facility for personal, non-commercial use.
The legalization of both medical and recreational marijuana in Missouri has opened up opportunities for individuals to access and cultivate cannabis seeds, provided they follow the state's laws and regulations regarding growing cannabis.
Even before this legalization, you can buy ungerminated marijuana seeds in the state. This is because the latter is known as a novelty item, so you're technically not breaking any law.
Should You Grow Weed Indoors or Outdoors Missouri
When considering where to plant pot seeds in Missouri, you have the option of indoor or outdoor cultivation, each with its own set of advantages and considerations. Which one is better?
Indoor Cannabis Cultivation
It provides growers with greater control over environmental factors. You can create an ideal growing environment by regulating temperature, humidity, and lighting.
This approach is especially advantageous during the winter months when outdoor conditions can be less favorable.
Indoor setups often involve the use of grow lights, which allow you to provide consistent and tailored light schedules for your plants. However, it's important to note that indoor cultivation may require a more significant investment in equipment and energy consumption compared to outdoor growing.
Outdoor Cannabis Cultivation
Outdoor cultivation of cannabis in Missouri takes advantage of natural sunlight and can lead to larger yields, provided you have the appropriate climate conditions and space.
Outdoor growing is generally more cost-effective and energy-efficient compared to indoor setups. However, it is subject to seasonal changes and external factors like weather conditions and pests.
To succeed with outdoor cultivation, you need to buy cannabis seeds that are well-suited for the Missouri climate and ensure your plants receive adequate sunlight and protection.
When to Sprout Weed Seeds in MO
The timing for sprouting pot seeds in Missouri largely depends on the local climate and weather patterns.
Generally, it's recommended to start germinating your cannabis seeds indoors in late winter or early spring, typically in February or March. This allows your seedlings to establish themselves indoors before being transplanted outdoors when the weather is more favorable.
Starting seeds indoors provides protection against potential late-season frosts and gives your plants a head start in their growth cycle.
Best Strains to Grow in Missouri
Are you ready to buy Missouri marijuana seeds? Here are some strains you might want to consider.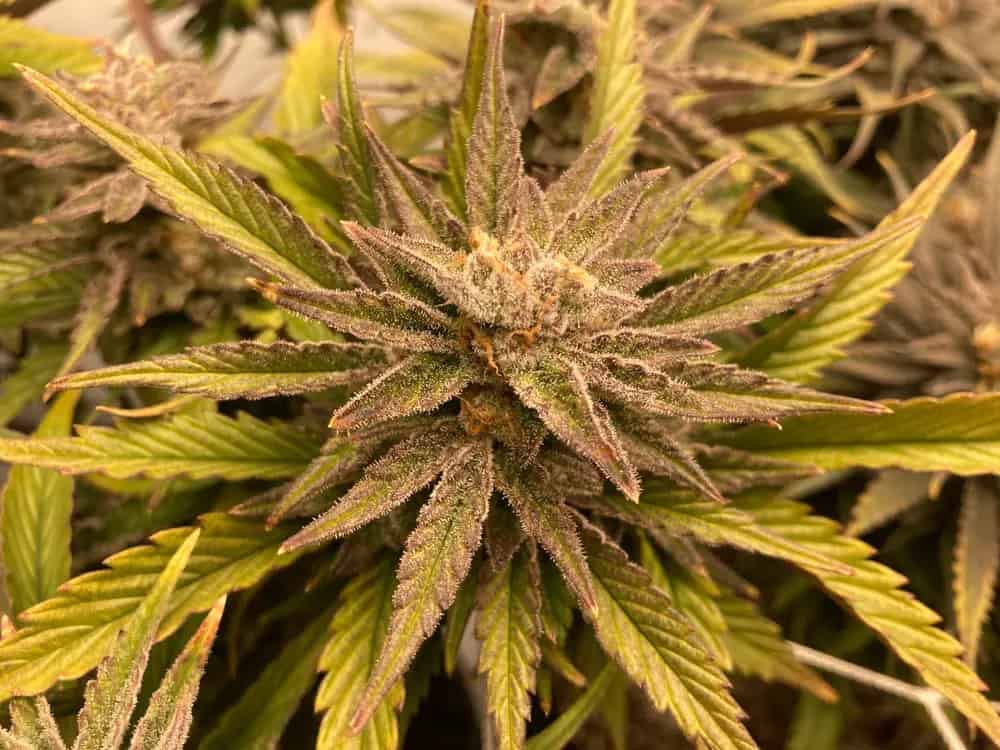 Photo from ILGM 
If you're searching for feminized cannabis seeds that will thrive in MO's temperate climate, Skywalker OG is a great option. It is resilient and adaptable, which increases the chances that it will survive.
It has 80% Indica and 20% Sativa while the THC level can reach up to 26%.
On average, Skywalker OG feminized marijuana seeds will have a flowering time of nine to ten weeks. To ensure such, maintain the temperature at 68 to 80 degrees Fahrenheit.
---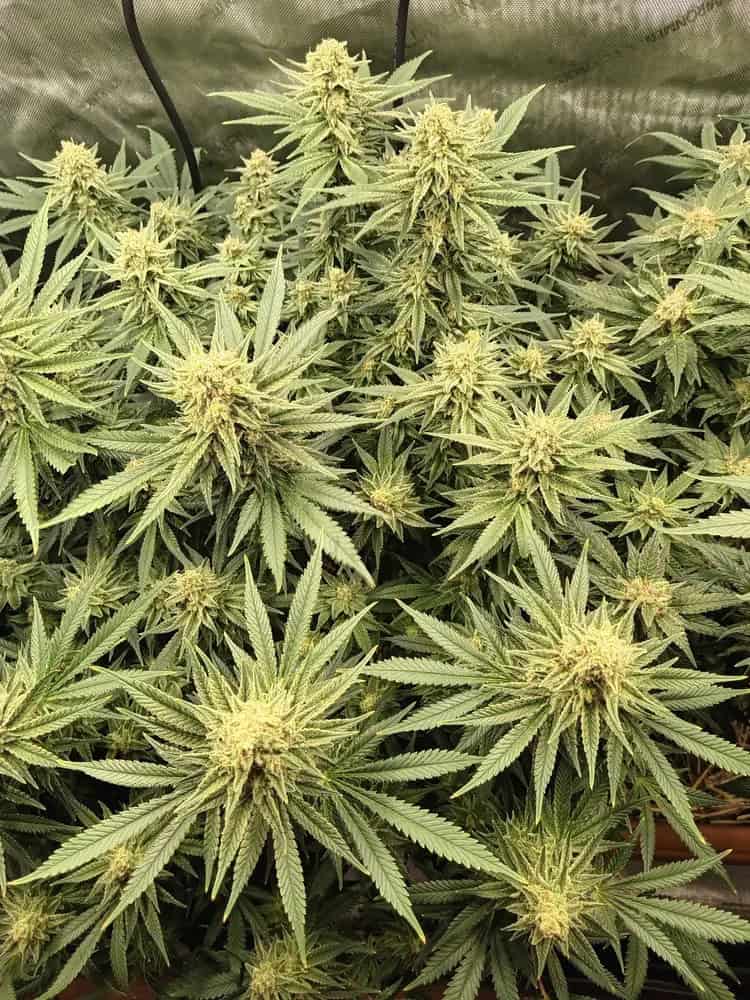 Photo from ILGM 
A popular hybrid strain, Bruce Banner boasts a genetic makeup of 40% Indica and 60% Sativa. With a THC content that can reach up to 25%, it's recognized for its potent effects.
Growing Bruce Banner feminized cannabis seeds is moderately challenging, making it suitable for those with some cultivation experience.
This strain tends to grow tall. The vegetative stage typically lasts between 4 to 8 weeks. When it comes to flowering, you can expect it to take around 8 weeks.
In terms of yields, Bruce Banner can be rewarding, with each plant producing approximately 14 to 19 ounces of cannabis.
---
Photo from Herbies
Grandaddy Purple is a hybrid strain with genetics that combine Purple Urkle and Big Bud. This genetic lineage contributes to its distinctive traits and effects.
This strain is known for inducing a mental explosion of euphoria and relaxation when consumed. It offers a soothing and calming experience, making it a popular choice among users seeking relaxation and stress relief.
When grown indoors, Grandaddy Purple typically yields around 500 grams per square meter. Outdoors, it produces an impressive harvest of approximately 450 to 500 grams per plant.
The flowering period for Grandaddy Purple when grown indoors is relatively short, spanning approximately 60 to 65 days. This allows for a reasonably quick turnaround for indoor growers.
Grandaddy Purple reaches its maturity and is ready for harvest in late September when cultivated outdoors.
---
Conclusion
Knowing where to buy marijuana seeds in Missouri is essential knowledge for cultivators. Thorough research is crucial to ensure the best bang for the buck, purchasing only seeds that guarantee a high germination rate and exceptional effects.
If you want to buy marijuana seeds online, ILGM and Herbies are two names that are hard to rival. From recreational users to medical marijuana patients, these seed banks promise a wide selection that will meet the needs of demanding buyers.
Frequently Asked Questions
What are the top marijuana seed banks in MO?
I Love Growing Marijuana (ILGM) and Herbies are two of the most reputable online seed banks that deliver to Missouri.
Is it legal to buy seeds in MO?
Yes, it's legal to buy cannabis seeds in Missouri.
Is it legal to grow your own weed in MO now?
Yes, you can now grow your own marijuana plants in Missouri, but you need to apply for a cultivation permit.
How many marijuana plants can you legally have in MO?
Licensed growers can have up to 18 weed plants. You're allowed to have six flowering, six non-flowering, and six clone cannabis plants below 14 inches in height.