Looking for the ultimate high?
In the world of cannabis, THC content plays a crucial role in determining the potency of a strain. For those seeking the most potent and mind-altering experiences, finding the highest THC seeds is a top priority.
[Spoiler Alert]: Granddaddy Purple from Herbies is our top choice with up to 35% THC.
These seeds offer the potential to grow potent plants that produce buds with sky-high levels of THC, the psychoactive compound responsible for the euphoric effects of cannabis.
In this article, we will explore some of the top contenders for the title of high THC strains, guiding you toward the strains that pack the most punch.
Product
Details

1. Granddaddy Purple

25-35% THC

Indica-dominant
60-65 Day Flowering Time
Vibrant Colors & Rich Flavors

Buy at HerbiesBuy at ILGMBuy at MSNL

2. Apple Betty

28-33% THC

40% Sativa / 60% Indica
65 Day Flowering Time
Balanced Hybrid

Buy at Herbies

3. Mimosa Shot

30% THC

35% Sativa / 65% Indica
55-65 Day Flowering Time
Tasty Citrus Flavors

Buy at Herbies

4. Do-si-Dos

30% THC

30% Sativa / 70% Indica
55-65 Day Flowering Time
Powerful, Balanced High

Buy at ILGMBuy at HerbiesBuy at Crop King Seeds

5. Godzilla Glue #4

29% THC

50% Sativa / 50% Indica
55-65 Day Flowering Time
Legendary Strain Genetics

Buy at Herbies
1. Granddaddy Purple (25 – 35% THC)
Granddaddy Purple is an award-winning strain for high-THC cannabis seeds known for its high potency and beautiful appearance.
With THC levels in the high 20s to mid-30s, it commands the respect of even the most experienced cannabis connoisseurs.
Despite its intimidating potency, Granddaddy Purple provides a relaxing and soothing experience, relieving worries, aches, and pains with just one puff.
This Indica-dominant strain, a result of crossing Purple Urkle and Big Bud, has gained popularity since 2003 and has become a favorite among both recreational and medicinal users. It is known for its vibrant colors, rich flavors, and potent effects as one of the best purple cannabis strains. 
Granddaddy Purple is an excellent high-THC weed for medical purposes, as it can help alleviate pain, ease nausea, induce sleep, and calm anxiety.
When grown indoors, these high THC seeds have a flowering time of 60-65 days, while outdoor cultivation results in flowering during October.
---
2. Apple Betty (28 to 33% THC)
For the best high THC strains seeds, it's hard to go wrong with Apple Betty.
It offers a balanced hybrid experience, with 40% Sativa and 60% Indica genetics. It is especially popular among those seeking psychoactive effects.
This strain's terpene profile adds to its allure, providing a delicious dessert-like experience. With flavors reminiscent of woodfired apple pie, complemented by hints of cinnamon and chocolate, Apple Betty can warm even the coldest of hearts.
When cultivated properly, the potent weed seeds of Apple Betty acquired from your favorite seed bank can produce high levels of THC, ensuring a potent and enjoyable experience for its users.
---
3. Mimosa Shot (30% THC)
Mimosa Shot is a cannabis plant that delivers an unparalleled euphoric experience, boasting record-breaking potency.
Created by crossing Mimosa and Fruit Punch, two citrusy delights, this high THC strain hits you right between the eyes with its incredible THC levels.
Mimosa Shot's high THC marijuana seeds have impressive genetics, with a focus on citrus flavors and potency during their breeding process.
When cultivated, it produces beautiful purple buds within a relatively short flowering time of 55 to 65 days. This strain is a high-yielding powerhouse, offering mind-blowing harvests of up to 1.6 kg/plant (56 oz/plant) or up to 800 g/m2 (2.6 oz/ft2) indoors.
The effects of Mimosa Shot are instant and hard-hitting, providing uplifting and mood-enhancing sensations that can help snap you out of a funk.
---
4. Do-si-Dos (Up to 30% THC)
Another sought-after pick for high THC marijuana strains, Do-si-dos is highly sought-after for its potent effects and delightful flavors.
These feminized seeds of a high THC strain are popular among cannabis enthusiasts for their ability to deliver a powerful and balanced experience.
With the genetics of these high THC weed seeds stemming from the Girl Scout Cookies lineage, Do-si-dos offers a combination of sweet and earthy flavors with hints of mint and lime.
This Indica-dominant strain is cherished for its relaxing and euphoric effects, making it a great choice for unwinding after a long day or finding relief from stress and tension.
Whether grown indoors or outdoors, Do-si-dos produce dense, resinous buds that are a joy to cultivate and consume.
---
5. Godzilla Glue #4 (29% THC)
In your search for the strongest marijuana strains, Godzilla Glue #4 is another option you should not miss. It's 50% Indica and 50% Sativa, which is perfect for people looking for balanced cannabis plants.
The genetics of Godzilla Glue #4 is a trifecta of legendary strains, including Chem Sis, Sour Diesel, and Chocolate Thai.
Within 55 to 65 days, these high-THC seeds will start flowering. You can expect a higher yield when you grow outdoors against indoor setups.
Lastly, this option for the highest THC seeds can deliver a lingering sedation followed by a pronounced state of euphoria.
---
6. Runtz Punch (29% THC)
Up next on our list of high-THC seeds…
Runtz Punch is a cross of three strains – Zkittlez, Gelato, and Fruit Punch. It has THC levels reaching up to 29%.
No need to wait long for your high-THC cannabis seeds to be ready for harvest. On average, the flowering time is within 55 to 65 days.
Indoor growing of these high-THC seeds can yield an output with a height of 90 to 120 centimeters. On the other hand, in outdoor environments, your high-THC seeds can reach up to 190 centimeters upon full growth.
Lastly, if you want beginner-friendly high-THC cannabis strains, Runtz Punch is worth considering. Growing such is effortless, even for a first-timer. Although, take note that it can grow taller than many other weed plants.
---
7. Critical XXL (24 to 27% THC)
With 35% Sativa and 65% Indica, Critical XXL is another top choice for high-THC seeds. It offers a supreme high and delivers exceptional yields that will leave growers highly satisfied.
The genetics of Critical XXL trace back to the classic Skunk #1, Afghani, and Critical Mass, which contribute to its potency and ability to produce massive harvests.
Like its lineage, Critical XXL induces a heavy, stoney-headed high accompanied by deep body relaxation. Such is unsurprising given how it can produce THC levels of up to 27%.
It is recommended to cultivate your high THC seeds indoors, where they will flower in approximately 50 to 55 days.
Indoor growers can expect above-average yields of 500-600 grams per square meter (1.6-2 oz/ft²), while outdoor cultivation can result in impressive harvests of 1300-1600 grams per plant (46-56 oz).
With its high THC content and minimal CBD, Critical XXL provides a powerful, deeply relaxing body high, making it best suited for nighttime consumption or quiet relaxation earlier in the day.
---
8. Blueberry Hill (26% THC)
When talking about high-THC cannabis seeds, Blueberry Hill is another option worth mentioning. With THC levels reaching 26%, its potency is undeniable.
With its 95% Indica lineage, this strain is perfect for an evening token either alone or with friends.
It boasts an impressive terpene profile and a wide range of cannabinoids, ensuring a truly relaxing experience.
Despite its compact size, Blueberry Hill's high THC seeds produce bucket-loads of buds that lasts long enough, to make it highly desirable.
The genetics of this strain combines two beloved classics, Blueberry and Afghan, resulting in a timeless and straightforward Indica experience.
With a short flowering time of just 50-55 days, these feminized high-THC seeds are ready to harvest quickly.
The refreshing taste of blueberry terpenes, combined with earthy and spicy notes, adds to the overall delightful experience of Blueberry Hill.
---
Joining our compilation of high-THC marijuana strains is Bruce Banner. It's 49% Indica and 60% Sativa. Meanwhile, the THC levels can reach 25%.
These high-THC Bruce Banner cannabis seeds have guaranteed germination, which should be within 72 hours of soaking the seeds in darkness.
In addition, Bruce Banner is ideal for people looking for quick-to-grow cannabis plants. The vegetative stage is four to eight weeks. On the other hand, its flowering time is within eight weeks.
Whether you grow these high-THC cannabis seeds indoors or outdoors, they can promise great results. Nonetheless, one thing to note is its strong scent, so it isn't discreet.
Lastly, it's a suitable option for people looking for mood-boosting high-THC strains. Aside from improving mood, it can also deliver pain relief to some users.
---
10. Sour Diesel (22 to 25% THC)
Also known as "Sour D," Sour Diesel is a highly sought-after strain loved for its energetic, fun, and psychedelic high.
Its unmistakable fuel-forward scent has earned the reputation of being a "Cash Crop" among growers.
Sour Diesel high THC cannabis seeds offer a Sativa-dominant blend with 60% Sativa and 40% Indica, delivering a powerful cerebral response that energizes without causing jitteriness.
Sour Diesel originated in California during the 1990s and is believed to have descended from Super Skunk and Chemdawg 91.
Growing Sour Diesel requires careful attention, especially outdoors where it can be prone to powdery mildew.
However, with the right climate, it can produce massive yields and potent buds. Indoor flowering of these cannabis seeds takes approximately 9 to 10 weeks, resulting in around 16 ounces per plant. Outdoors, the harvest can be expected around November.
---
11. Cherry Pie (Up to 23% THC)
With just one puff, the aroma of freshly baked cherry pie will have your mouth watering. Whether enjoyed at the start or end of the day, this strain promises a tasty treat that is hard to resist.
Despite its indica dominance, Cherry Pie offers a surprisingly cerebral experience. It initiates a chain reaction of relaxation in the mind, leading to a body-heavy state of euphoria. Worries quickly fade away as you enjoy the high THC levels of this strain.
Growing Cherry Pie high THC seeds is a relatively stress-free process, especially if they're feminized.
It has dense potent buds with orange and purple hues, making the cultivation and consumption of Cherry Pie a delightful experience.
Cherry Pie can be grown indoors or outdoors, but it is recommended for beginner and intermediate growers to cultivate it indoors due to its clone background.
---
12. Zkittlez (Up to 23% THC)
Another notable addition to our round-up of high-THC strains is Zkittlez. It's 70% Indica and 30% Sativa with a fruity and peppery flavor and aroma.
Those who want to buy cannabis seeds that won't be a headache to grow will love Zkittlez. It can stay compact, so space requirements won't be an issue.
These high THC autoflowering seeds grow buds that can provide a mood boost. Whether day or night, it can also provide the dose of energy you need.
Lastly, Zkittlez is one of the most notable potent strains because of its tasty flavor and exciting aroma.
---
13. Purple Kush (Up to 22% THC)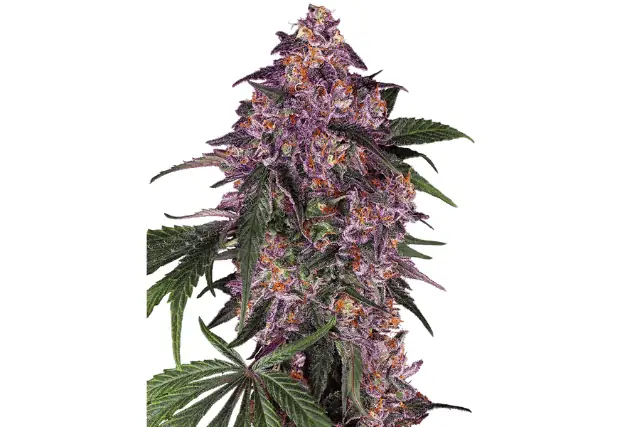 Next on our list of high-THC seeds is Purple Kush, which originated from the cannabis-loving West Coast and has become a favorite among Indica enthusiasts.
With its pleasantly relaxing effects and up to 22% THC levels, Purple Kush is known for inducing pure bliss and promoting deep relaxation.
This 100% Indica strain, with its low CBD content of 0.10%, offers a sweet flavor and a full-body high that leaves you feeling completely relaxed.
Its royal indica roots can be traced back to the Hindu Kush and Purple Afghani, and it has gained superstar status in the medical marijuana world.
Purple Kush cannabis plants thrive well both indoors and outdoors, but their compact, bushy stature may pose a challenge for new growers. It does well in cool climates, and proper temperature and airflow are crucial for optimal growth.
Pruning and employing techniques like the Screen for Green (SCROG) method can help maintain healthy airflow.
---
14. Green Crack (Up to 22% THC)
Green Crack cannabis seeds produce a Sativa-dominant strain of marijuana that offers an energetic and uplifting high, despite its name.
Initially known as Cush or Green Kush, it was famously renamed Green Crack by California rapper Snoop Dogg due to its light-bodied, stimulating effects. You can read our full review of Green Crack here.
This feminized strain boasts a tangy mango flavor and contains low CBD levels of 0.10% and high THC levels, reportedly reaching up to 22%.
Users can expect a mental buzz that eliminates stress while maintaining focus throughout the day, without experiencing a couch-lock effect.
Growing Green Crack cannabis plants is relatively easy in Mediterranean-like climates and can be cultivated both indoors and outdoors.
---
15. Banana Kush (Up to 21% THC)
When it comes to quality marijuana, California always delivers, and Banana Kush high THC cannabis seeds are no exception.
As a fruity Kush hybrid, this Indica-dominant strain emanates a delightful banana aroma that perfectly matches its vibrant green appearance. Despite its sweet scent, Banana Kush provides a long-lasting and potent high, showcasing its potency.
Ideal for indoor cultivation, Banana Kush high THC weed seeds will thrive in hydroponic setups. The resulting plants require training and pruning in confined spaces.
Banana Kush offers an uplifting, euphoric head buzz accompanied by gentle body relaxation, embodying the renowned chill vibes of the West Coast.
It's beneficial for stress, depression, muscle ache, pain relief, and stimulating appetite. For those seeking a mood-enhancing, energizing strain, Banana Kush is an excellent choice.
---
Frequently Asked Questions
What is the highest THC strain seed?
The highest THC strain seed is Granddaddy Purple, which contains up to 35% THC.
Read Also: What Are The Cheapest Marijuana Seeds?
Conclusion
Still can't decide? We highly recommend the potent seed selection at Herbies that provides the best bang for your buck with a secure and discreet shopping experience.
Overall, the world of cannabis cultivation offers a wide range of options for those looking for high-THC seeds. You can go for the homerun with Granddaddy Purple offering up to 35% THC.
From potent Indica-dominant strains to uplifting Sativas, high-THC cannabis seeds hold the potential for truly mind-altering experiences.
More than just choosing the right high-THC weed seeds, it's crucial that you pay attention to how to grow them. Knowledge is power, so arm yourself and be ready to confront the world of potent strains with incredibly high THC levels.
Product
Details

1. Granddaddy Purple

25-35% THC

Indica-dominant
60-65 Day Flowering Time
Vibrant Colors & Rich Flavors

Buy at HerbiesBuy at ILGMBuy at MSNL

2. Apple Betty

28-33% THC

40% Sativa / 60% Indica
65 Day Flowering Time
Balanced Hybrid

Buy at Herbies

3. Mimosa Shot

30% THC

35% Sativa / 65% Indica
55-65 Day Flowering Time
Tasty Citrus Flavors

Buy at Herbies

4. Do-si-Dos

30% THC

30% Sativa / 70% Indica
55-65 Day Flowering Time
Powerful, Balanced High

Buy at ILGMBuy at HerbiesBuy at Crop King Seeds

5. Godzilla Glue #4

29% THC

50% Sativa / 50% Indica
55-65 Day Flowering Time
Legendary Strain Genetics

Buy at Herbies