If you're searching for the ultimate cannabis experience that will leave you in awe of its sheer potency, you're in the right place.
We've curated a list of the most robust and highest THC strains that will take your high to new heights.
From mind-blowing THC levels to intense euphoria and relaxation, we'll explore the characteristics and effects of these strains.
So sit back, relax, and keep reading this strongest marijuana strains review. Buckle up and get ready to get stoned!
Want to grow your own THC-powerhouse buds? We highly recommend the seeds selection at Herbies that provides the best bang for your buck with a secure and discreet shopping experience.
1. Brownie Scout (30-38%)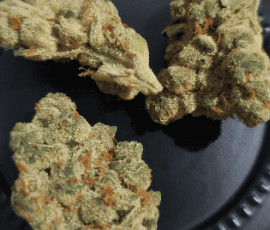 With the THC levels reaching up to 38%, this strain is almost too good to be true! This strongest weed strain is a hybrid strain of Platinum Girl Scout Cookies and Kosher Kush.
It has fluffy nugs with purple leaves and orange hairs. The thick white trichomes add more personality, making it more appealing.
The cerebral high that this strain brings will make you euphoric. In addition, this weed strain can also bring moderate relaxation.
As one of the highest THC strains, this isn't for absolute beginners. Even seasoned smokers may find it hard to tolerate its effects.
---
2. The Toad (30 – 37%)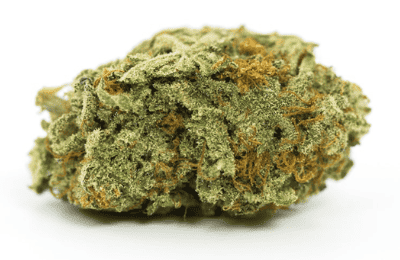 The runner-up for the most potent strain is an Indica-dominant hybrid. It's from a cross of Girl Scout Cookies and Chemdawg OG. Its THC content can reach up to 37%!
Looking at its bag appeal, the buds are super caked and dense. Bring it close to the nose and you'll smell its potency. It also has a fruity taste.
This cannabis strain delivers a mind-blowing experience. Thanks to its high THC potency, you'll be euphoric and relaxed.
---
3. Godfather OG (30 – 35% THC)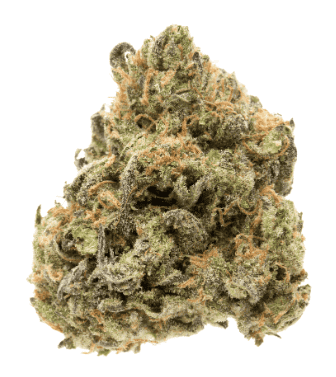 The third spot in this strongest marijuana strains review is also known as the "Don of all OGs." The Godfather OG is a powerful Indica-dominant strain that commands respect among cannabis enthusiasts.
With a THC content as strong as 35%, this strain delivers a deeply sedating and relaxing experience that is perfect for unwinding after a long day.
Not only cherished by recreational users, but Godfather OG is also an excellent choice for medical marijuana patients seeking relief from pain, insomnia, and stress.
The Godfather OG delights with a spicy and kushy flavor, accentuated by subtle grape undertones, creating a truly captivating taste experience.
This strain's remarkable strength has earned it the title of "the most potent marijuana strain" by High Times, solidifying its legendary status in the cannabis world.
---
4. Chiquita Banana (24 – 35%)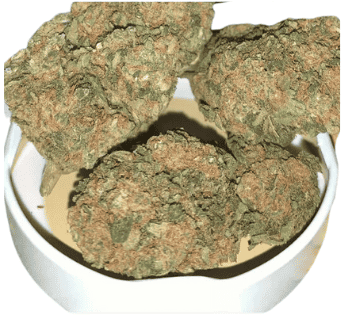 It's almost impossible to talk about high THC strains without mentioning Chiquita Banana. The THC content can be as high as 35%.
As the name implies, it tastes like fresh bananas. It's sugary upon inhale with a lemon-like flavor upon exhale.
The effects are felt almost instantaneously after the first hit, which cements its reputation as one of the most potent strains. You'll be giggly and giddy!
---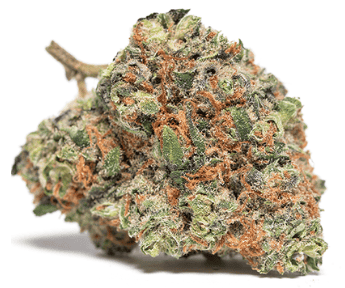 Bruce Banner is a potent Sativa-dominant hybrid strain resulting from a cross between Strawberry Diesel and OG Kush.
Its aroma is characterized by earthy and piney notes, complemented by a subtle hint of sweet grass.
When it comes to effects, Bruce Banner shines with its euphoric and uplifting qualities, making it an excellent choice for boosting creativity and productivity during the day.
As one of the highest THC strains, it also possesses remarkable pain-relieving properties, making it a great option for individuals seeking relief from discomfort.
Moreover, Bruce Banner has been praised for its potential to alleviate symptoms of anxiety and depression, offering a soothing and calming experience.
---
6. Quantum Kush (27 – 30%)
Are you still looking for the highest THC strain? Quantum Kush is another option that should be on your radar.
Quantum Kush is an intriguing strain where Sativa genetics take the lead, overpowering the Indica content.
A cross of Sweet Irish and Time Wreck, it delivers a fast-acting and potent experience.
Initially, your cerebral activity intensifies, leading to heightened concentration and focus. However, this effect gradually fades, allowing for a more relaxed state. Quantum Kush is an excellent choice for days when you don't require an energy boost.
Its flavor and aroma profile are a delightful medley of citrus, sweetness, tropical notes, woody undertones, and a hint of skunk.
---
7. Gorilla Glue #4 (25 to 30%)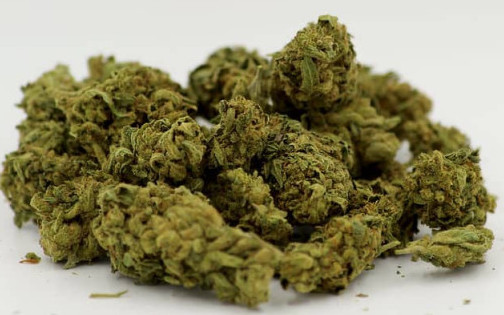 Next on our list of high-THC strains is a hybrid with 50% Indica and 50% Sativa.
Upon consumption, you'll feel a massive surge of energy that ignites your senses. However, as the high settles, be prepared to be "glued" to the couch, as the deeply relaxing effects take hold.
It is a winner of multiple awards for its exceptional qualities. In 2014, it was a two-time winner of the High Times Cannabis Cup.
Gorilla Glue #4 is a go-to choice for those seeking a potent and balanced high that combines the best of both Sativa and Indica. Prepare for a ride you won't forget.
Read our full review of Gorilla Glue #4 here.
---
8. Grease Monkey (25 – 30% THC)
This option for the most potent strain available is a mix of Gorilla Glue #4 and Cookies & Cream.
This Indica-dominant hybrid strain offers a profoundly relaxing experience that permeates the entire body. Once consumed, its effects are deeply felt, inducing a sense of deep sedation and tranquility.
The flavor and aroma profile of Grease Monkey is a unique blend of earthiness, complemented by a delightful mix of vanilla and petroleum notes.
Prepare to unwind and let the Grease Monkey work its magic, delivering a blissful and soothing journey of relaxation and serenity.
---
9. L'Orange (25 – 30%)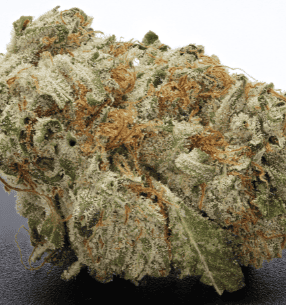 If you're a fan of Sativa-dominant marijuana strains, this one's for you! The strong orange overtones are enough to excite its users.
As one of the strongest marijuana strains, this can bring happy thoughts. You'll be focused after smoking.
It's also popular for the treatment of various medical conditions, including Attention-Deficit / Hyperactivity Disorder.
---
10. Wedding Cake (25 – 27%)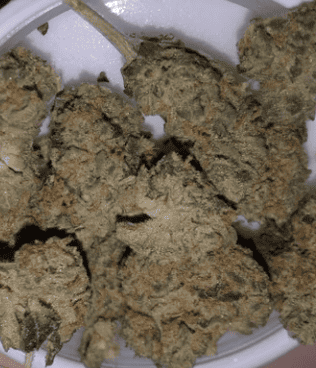 An Indica-dominant weed strain, Wedding Cake is a hybrid of Triangle Kush and Animal Mints.
Its aromatic profile is a beautiful blend of flowery, sweet, peppery, earthy notes, with a subtle hint of sourness and a pleasant aftertaste of vanilla.
When it comes to the effects, this potent strain shines with its ability to induce relaxation and euphoria. It offers a psychoactive experience that uplifts the mood and provides a sense of bliss.
Additionally, Wedding Cake has gained recognition for its potential therapeutic benefits, particularly in the treatment of chronic pain.
For cannabis consumers looking for a flavorful and effective option to alleviate pain while enjoying a euphoric journey, Wedding Cake may be the right strain.
---
11. Banana Kush (18 – 27%)
A delightful hybrid of Ghost OG and Skunk Haze, this potent strain offers a unique and tantalizing experience.
True to its name, this strain boasts an enticing aroma and flavor reminiscent of fresh bananas.
With just a few hits, you'll be greeted by a mellow buzz that brings about a sense of relaxed euphoria. However, beware of its seductive nature, as Banana Kush has a tendency to lull you into a deep sense of relaxation, making it hard to resist the urge to take a nap within a couple of hours.
Embrace the soothing effects of Banana Kush and let its tropical essence transport you to a blissful state of tranquility.
---
12. Strawberry Banana (22 – 26%)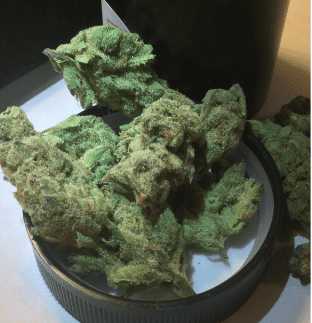 Those on the hunt for cannabis strains with sky-high THC levels should not miss out on Strawberry Banana, which is also known as Strawberry Twist.
As the name implies, this marijuana strain has strawberry and banana as dominant aromas and flavors. It's sweet, earthy, and tropical with a hint of being tangy.
The effects commence with a mild head buzz and gradually creep throughout the body. Soon, you'll feel energetic and euphoric. As it fades, you'll feel slightly sedated.
More than being one of the strongest marijuana strains, its appearance is another thing to note. The nugs are fluffy popcorn-shaped that are dark neon with orange hairs.
---
13. Gas Monkey (20 – 26%)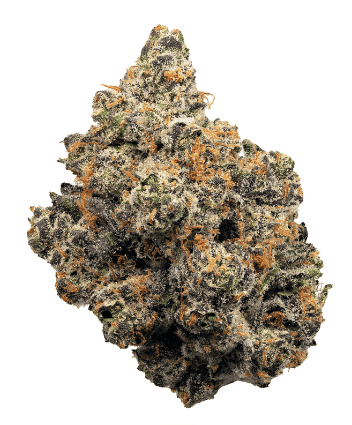 Joining our rundown of the most potent cannabis strains has Grease Monkey and Gas as its parent strains. Unlike many Indica strains, it's rare, so finding it can be quite challenging.
In terms of flavors, expect it to have hints of citrus and diesel. It's also earthy.
Once the high starts, you'll feel as if your body is being lifted. You'll feel light-headed and the effects will soon creep throughout the body. It won't take long before you're couch-locked.
---
14. Sour Diesel (18 – 26%)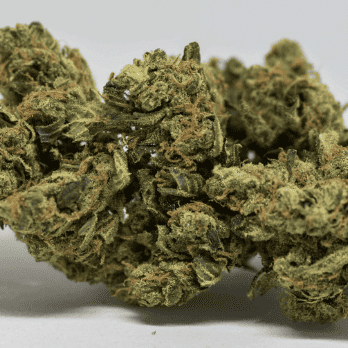 Up next on our collection of potent cannabis strains is the Sour Diesel. It awakens the brain, making it a great pick for those with anxiety and depression.
The name "Sour Diesel" perfectly captures its unique aroma and flavor profile.
This strain is renowned for its pungent, fuel-like scent, reminiscent of diesel fuel, combined with hints of citrus and earthiness.
The flavor is equally memorable, with a tangy and slightly sweet taste that lingers on the palate.
It offers a cerebral and energizing high that can uplift your mood and boost creativity. Many users report feeling an invigorating and euphoric rush, making it a go-to choice for daytime use or social gatherings.
---
15. Ghost Train Haze (18 – 25% THC)
One of the most powerful Sativa strains, Ghost Train Haze is an award-winning weed that demands attention.
A cross between Ghost OG and Neville's Wreck, it combines the best of both worlds.
Its aroma delights the senses with a sour citrus and floral blend that invigorates the palate.
Beyond its captivating flavor, it is renowned for its medicinal benefits. It is particularly effective in providing relief from chronic pain and appetite loss.
However, individuals with anxiety should exercise caution, as this strain can be a heavy hitter in terms of potency.
Being another great pick for the most potent marijuana strains, buckle up and enjoy the ride.
---
16. Chemdawg (17 – 25%)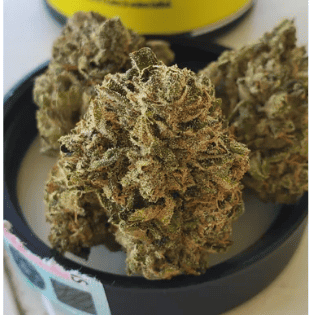 Since its introduction in 1991, Chemdawg has built a reputation as one of the most potent strains in the market. With THC levels reaching up to 25%, even experienced smokers love this Indica-dominant hybrid.
This high-THC strain offers an exceptional cannabis experience that is euphoric, creative, and uplifting.
Its effects are known to inspire a sense of blissful euphoria while stimulating creativity and providing an uplifting boost.
Beyond its recreational appeal, Chemdawg is highly regarded for its therapeutic benefits. The high THC content has been found to be effective in relieving stress, anxiety, and pain. The high it delivers is characterized by a cerebral buzz accompanied by a heavy-bodied sensation that promotes relaxation.
Adding to the allure of this cannabis strain is the pungent and diesel-like aroma, which adds a distinct and memorable quality.
---
17. Green Crack (19 – 26%)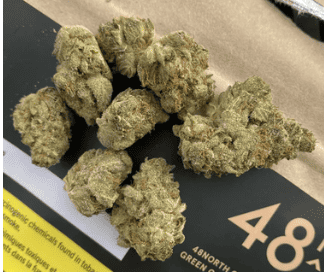 Green Crack, also known as "Green Crush" and "Mango Crack," is a potent sativa marijuana strain resulting from the crossbreeding of Skunk #1 with an unknown indica.
Despite its name, Green Crack is all about pure cannabis power.
Its energizing effects have earned it a devoted following among consumers with its THC level that goes as high as 26%. With its invigorating mental buzz and sharpened focus, Green Crack provides a perfect boost that keeps you going throughout the day.
The tangy, fruity flavor with hints of mango adds to its appeal. This strain is a go-to choice for combating fatigue, stress, and depression, making it an ideal daytime companion.
Read our full Green Crack / Green Crush review here.
---
18. Blissful Wizard (19 – 24%)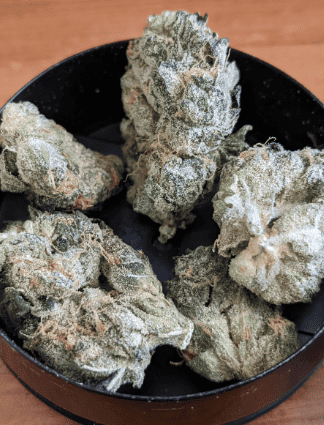 Wrapping up this strongest marijuana strains review is a hybrid of Captain's Cookies and Girl Scout Cookies.
Aside from lemon and lime, it also comes with hints of creaminess. It also has subtle notes of sweet apples and floral earth.
Being one of the strongest cannabis strains, prepare yourself for its hard-hitting effects. You might end up being talkative as you embrace the euphoria that it brings.
Read Also: The Highest THC Cannabis Seeds in 2023
---
Frequently Asked Questions
What is the world's strongest marijuana strain?
The strongest strain of weed in the world is the Brownie Scout. It has a high THC content that can reach up to 38%.
What is stronger – Sativa or Indica?
It depends on the specific type of Sativa or Indica. They can be both strong with different effects. Indica strains are relaxing. On the other hand, Sativa strains are energizing.
Read Also: Pink Diamond Strain Review (Cali)
Conclusion
Ready to grow your own THC-powerhouse buds? We highly recommend the seeds selection at Herbies that provides the best bang for your buck with a secure and discreet shopping experience.
The world of the strongest marijuana strains is a captivating and diverse landscape.
From the electrifying high of Green Crack to the Incredible Hulk-like power of Bruce Banner, and the tranquil embrace of Gorilla Glue, these strongest weed strains offer an exceptional potency that leaves a lasting impression.
Whether seeking creative inspiration, deep relaxation, or a medicinal remedy, these strongest strains deliver an extraordinary experience.