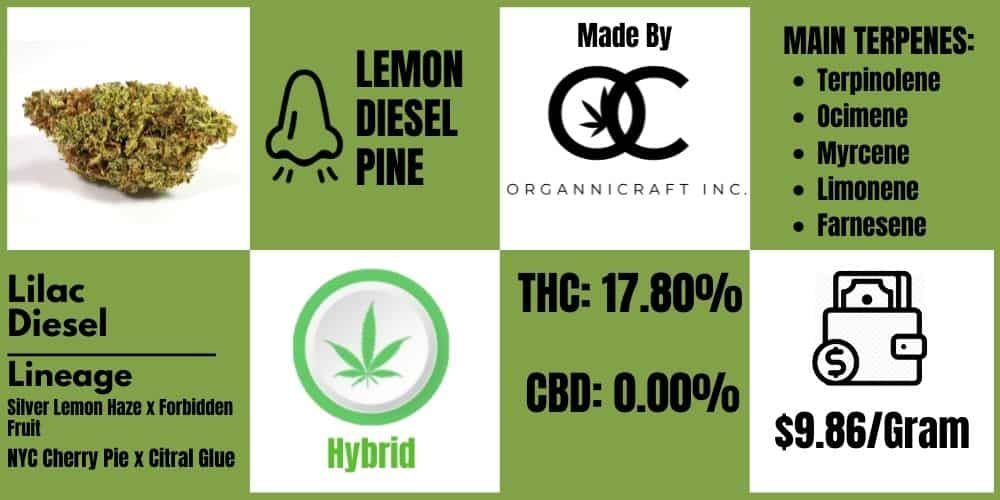 For this review, I tried out some Lilac Diesel produced by Organnicraft, bred by Ethos Genetics; it's their second release after the fan-favorite Cherry Punch drop. This hybrid cultivar came with 17.8% THC, 4.60% of terpenes, and aromas that will keep your nostrils and palate wanting more. Below is an in-depth breakdown.
Lineage: Silver Lemon Haze x Forbidden Fruit and NYC Cherry Pie x Citral Glue
Terpene Profile: Terpinolene (2.1%), Ocimene (0.53%), Myrcene (0.49%), Limonene (0.28%), Farnesene (0.21%).
Packaging Details: Packaged 05/17/2021, tested/reviewed 07/01, 45 days later. Lot 21010FL
Pricing Details: Purchased 3.5 grams for $34.50 ($9.86/g) at Shelter Market (medical).
Appearance:
It seems like bag appeal is quite important for Organnicraft because, just like their Cherry Punch, this Lilac Diesel looked excellent! (I know, it should be important for all LPs, but trust me…it's not) Their little glass jar (which we all love) packed just four sticky nugs, all looking tasty and perfectly trimmed, ready to be consumed.
For moisture content, the RH reader showed 47%, which is ok, felt more like it was over 50%. The medium-sized buds were bright green with some dark green calyxes, with many brown pistils in between; there was also a slight shine to the buds due to the heavy trichome coverage.
Aroma:
There is something about the mix of terpinolene and limonene that just makes my nostrils happy. The heavy terpene presence on this Lilac Diesel emits some really refreshing aromas. It starts off with a strong sweet lemon smell that's mixed with passionfruit, and it's accented by slight diesel and pine notes.
What's unique about this one is the strength of the aroma. It can fill up a small room. If you're a fan of fruity-smelling cultivars, you will enjoy this.
Flavor:
I found the main difference between the aroma and flavor was that there was a little more diesel that came out through combustion. I got all of the fruity goodness on the inhale, but there was a heavy fuel presence floating around the palate on the exhale.
This was some of the smoothest flower you can smoke. This Lilac Diesel just hits differently.
Effects:
I found the effects to be short-lasting but good for productivity/focus. It definitely takes the edge off, and quite nicely, too. The euphoric effects come in quickly, but I was perfectly normal after about 45 minutes of smoking. This is a great cultivar for somebody that doesn't want to get slapped in the face by the high.
Overall:
This second Organnicraft drop is a great product, and I would recommend this for everybody, just like the Cherry Punch. Experienced users may find this a little weak if you're looking for a strain that'll knock you on your ass, but if you're looking to try out some really well-grown cannabis, don't hesitate to grab some of this Lilac Diesel.
If you've tried this out before, let me know what you think in the comments below (pics are welcome).