For this cannabis strain review, I tried out some Ice Cream Cake made by 7ACRES. Having enjoyed their popular Jean-Guy and Jack Haze strains in the past which I enjoyed a ton, I was curious to try out a new cultivar from them. This Indica-dominant Gelato #33 x Wedding Cake cross came in with 25.2% THC and an inconsiderable amount of CBD.
Below is an in-depth breakdown of this phenotype.
Lineage: Gelato #33 x Wedding Cake
Type: Indica-dominant
Potency: 20-25% THC
Terpene Profile: Limonene, Caryophyllene, Nerolidol, Linalool
Packaging Details: Packaged on 02/19/2021 and tested/reviewed on 03/20/2021, exactly 29 days after. Lot# 0172
Pricing Details: urchased $39.90 for 3.5 grams at the SQDC in Montreal, Quebec. ($11.40/gram)
Appearance: 3/5
I really wanted to give this a higher score; I swear I did, but the dryness! The moisture content of 36% RH is too little, so before anything else, I dropped a Bovedo pack in the jar for 24 hours and brought back the moisture content up to 56%.
There was a total of six nugs, three large ones, and three mediums ones, and they all looked photoshoot-ready with shiny trichomes covering multi-colored nugs; a couple of shades of green, some purple, some navy with a small amount of bright orange pistils. The scale showed 3.55 grams which is always a plus.
Aroma: 3.5/5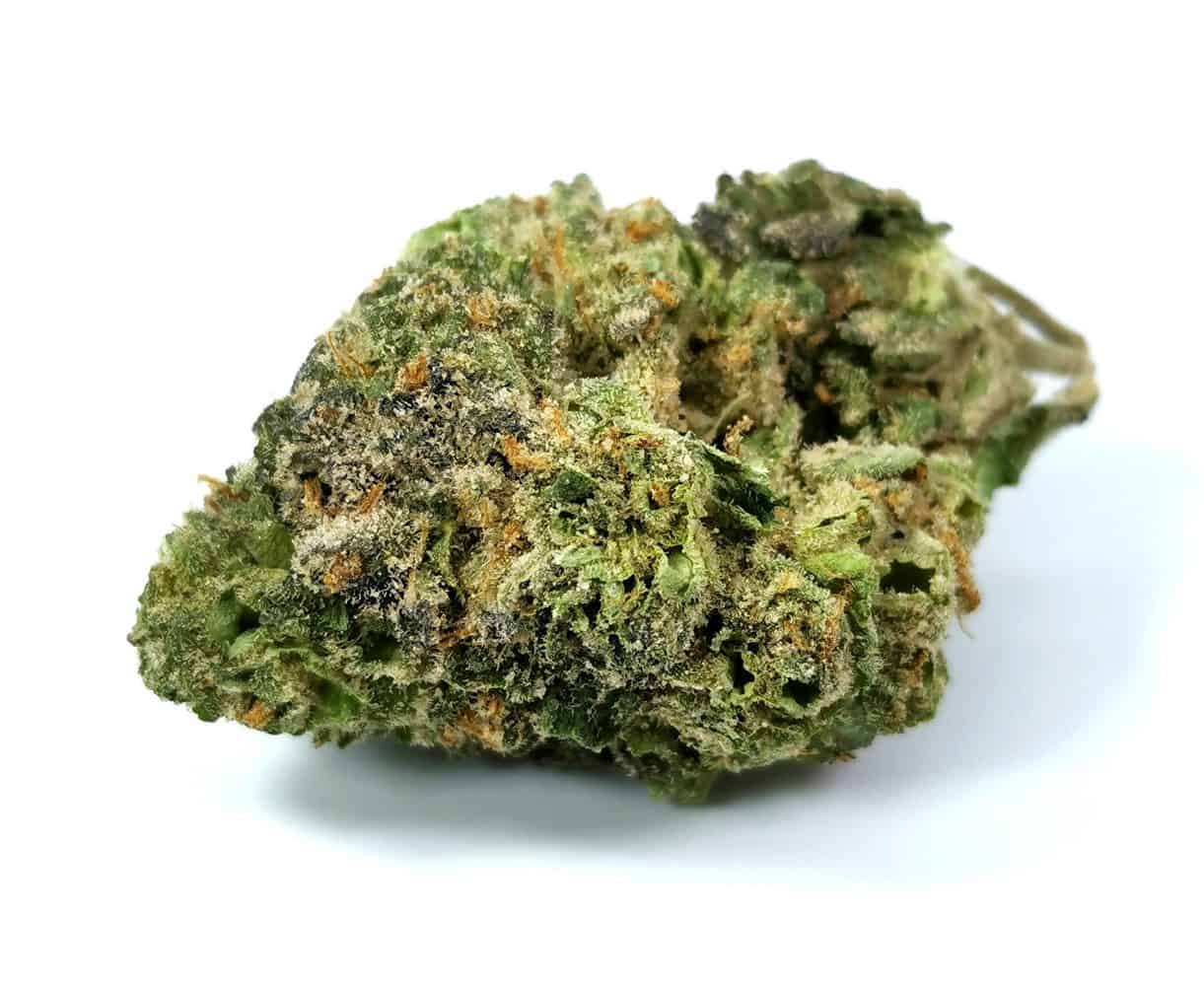 The aroma was strong, even if this was way too dry for my liking; the terps seem to be very lively, but this wasn't packaged that long ago. This Ice Cream Cake strain gave off some sweet vanilla accented by notes of sweet lemon and a little bit of baked dough.
It was more muted when I initially removed the seal, and the darkness was more present after the re-hydration; the humidity pouch did not steal the terpiness away as it sometimes does.
Flavor: 2.5/5
I was expecting to taste some actual Ice Cream Cake when smoking this, but instead, I tasted weed. OK, I didn't actually expect to taste cake, but I did that the flavor was slightly more muted than I would like it to be.
What I did enjoy was the smoothness of this cultivar. It was the perfect amount of harshness (I know, it sounds weird) when smoking my joint. I do like to feel something, just not exploding lungs.
Effects: 3.5/5
So this is where this Ice Cream Cake strain takes the…cake. By the fifth toke, I felt a big comfy hug from the inside. It took the edge off instantly, shedding the stress away and putting me in a relaxed state of mind without getting the brain all fuzzy. I didn't feel like doing anything that took a lot of my energy, but creativity was flowing.
I didn't feel lazy per-say until the effects started wearing off, then it was comatose. That was the part I didn't like; I started to feel really drowsy after about 90 minutes; that happened all four times I smoked this. You know that feeling you get after you eat 3 slices of ice cream cake? Yes, that one.
Read Also: Biscotti Cake Strain
Overall: 3/5
I found this to be a pretty solid offering from the 7acres team; their OGs, Jack Haze and Jean-Guy, are still their top 2 strains, in my opinion, but this ICC was above average for sure. It would be great if this didn't come in so dry.
The overall score may have been a little higher! I'd recommend this. It's worth trying. If you had some of this ICC, let me know your thoughts in the comments below (please add pics).
Alternatives
Macaron: If you're looking for a strain with a more pronounced flavor profile, Macaron might be worth trying. It offers a sweet and nutty taste, reminiscent of the popular French dessert.
Pink Cookies: For those seeking a strain with a similar flavor profile to Ice Cream Cake, Pink Cookies could be a suitable choice. It shares some characteristics like sweet vanilla and baked notes.
Biscotti: Biscotti Cake, another strain with a cookie-like name, could be a good alternative. It offers a flavorful experience with its sweet, doughy, and slightly spicy taste.
Frequently Asked Questions
Is Ice Cream Cake a Sativa or Indica strain?
Ice Cream Cake is an Indica-dominant strain.
How does Ice Cream Cake taste and smell?
Ice Cream Cake tastes and smells sweet, and creamy, with notes of vanilla, baked goods, and hints of citrus or lemon.
How strong is Ice Cream Cake?
Ice Cream Cake is considered to be a strong strain with high THC levels, typically ranging from the mid to high 20s.