I apologize for the harshness in advance, but by the end of this  White Russian strain review, you'll probably understand that I WAS NOT a fan. This was my first  Indiva experience, and I was not impressed whatsoever. We'll get to that…
So for the cannabinoid content, this hybrid strain comes in at anywhere between 12% and 20% THC and an insignificant amount of CBD (0.04%); this specific batch was on the low end with 13.09% THC.
For the terpene profile, alpha-Pinene and myrcene are the two dominant terpenes; it also includes linalool and caryophyllene, although the terps were pretty much all dead.
When it comes to lineage, White Russian has actually been around for some time, it was created by famous Dutch breeders Serious Seeds, and it actually won 1st place in the "Best Overall" category at the 1996 High Times Cannabis Cup (so I have no clue how I ended up with such garbage, although 1996 is a long time ago!).
It's a cross between two other fan favorites, White Widow and AK-47.
Packaging Details: This was packaged on 02/07/2020 and tested/reviewed on 03/10/2020, exactly 32 days after being packaged.
Pricing Details: Purchased 3.5 grams for $29.00 at the SQDC in Montreal, Quebec, Canada ($8.29/gram).
Appearance: 1/5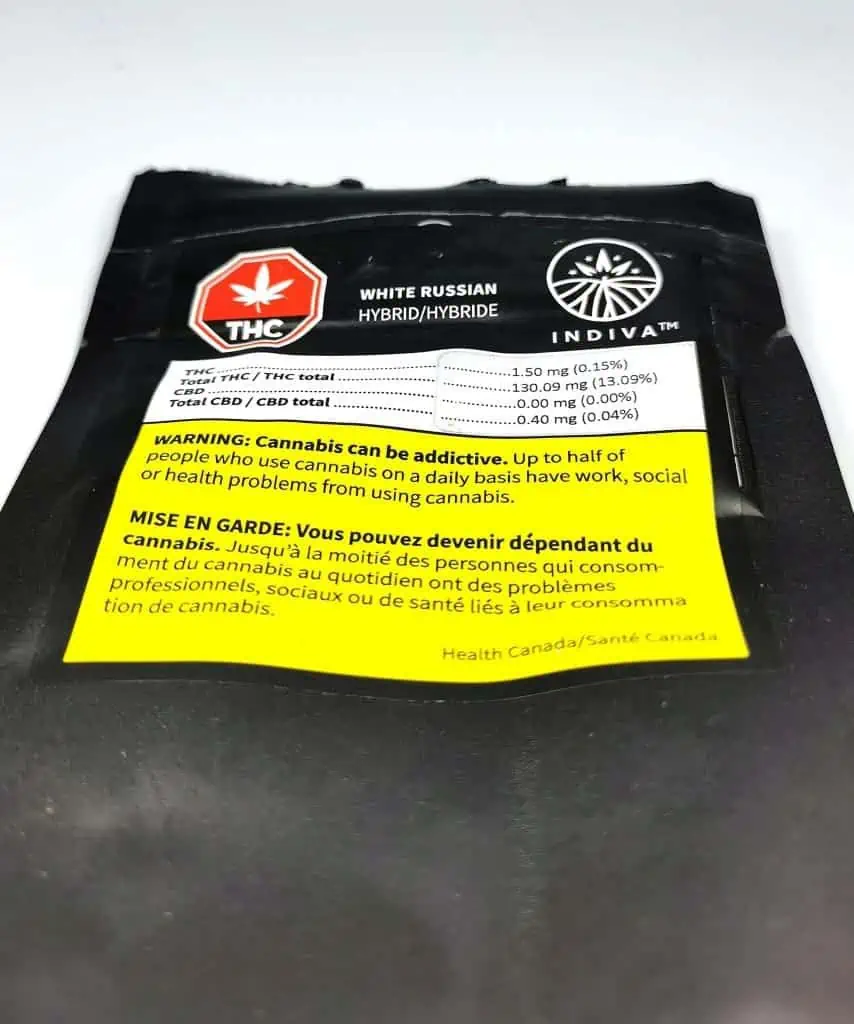 When it comes to bag appeal, the only reason it even got a 1 is because of the amount of trichomes on this; it made the bud look OK. It came in at 31% when it comes to humidity content, which is "wall of shame" worthy. It's actually horrible.
The terps were completely dead, the weed was powder dry and full of stems, it was a bunch of little popcorn nugs, and it was just very unpleasant visually overall.
Aroma: 0/5
Well, as I mentioned a few times, the terpenes on this White Russian were completely dead. It was a bag of nothingness. The best way to describe it is it smelled like a tiny bit of dirt mixed with a whole bunch of nothing.
I know the terps weren't lively anymore because I rehydrated it to 62% humidity using a Boveda pack for 48 hours before retrying it, you know how it smelled after? You guessed it … nothing. Very disappointing.
Flavor: 1/5
The only reason this gets a score is because it tasted like weed. As in, I know I was not smoking grass or spices or tea, I know I was smoking weed, so there's that… It's just tasted like shwag really; the flavor is comparable to the "end of bag" deal you used to get from your dealer, the 50% off type of weed.
Effects: 3/5
Just because the terpenes were dead doesn't mean that the cannabinoids were. The high was OK, not too strong, not too light. Pretty good for the daytime; I'm just having trouble writing anything good about this weed because it was so bad overall.
Overall: 1.5/5
So….I would not recommend this to anybody. I felt somewhat disrespected as a consumer that this company would even sell such bad flower. I will definitely buy more products from this company because I'd like to give it another shot; however, I'd rather try it from a different company for this White Russian strain.
If you're a fan of getting high without feeling your brain fried, you should try Bandeau Strain. Otherwise, I would recommend Pink Kush for consumers who enjoy getting REALLY high.
This has been grown for years, and this was an inferior job of growing such a well-known strain. Don't waste your money on this; sorry, not sorry.