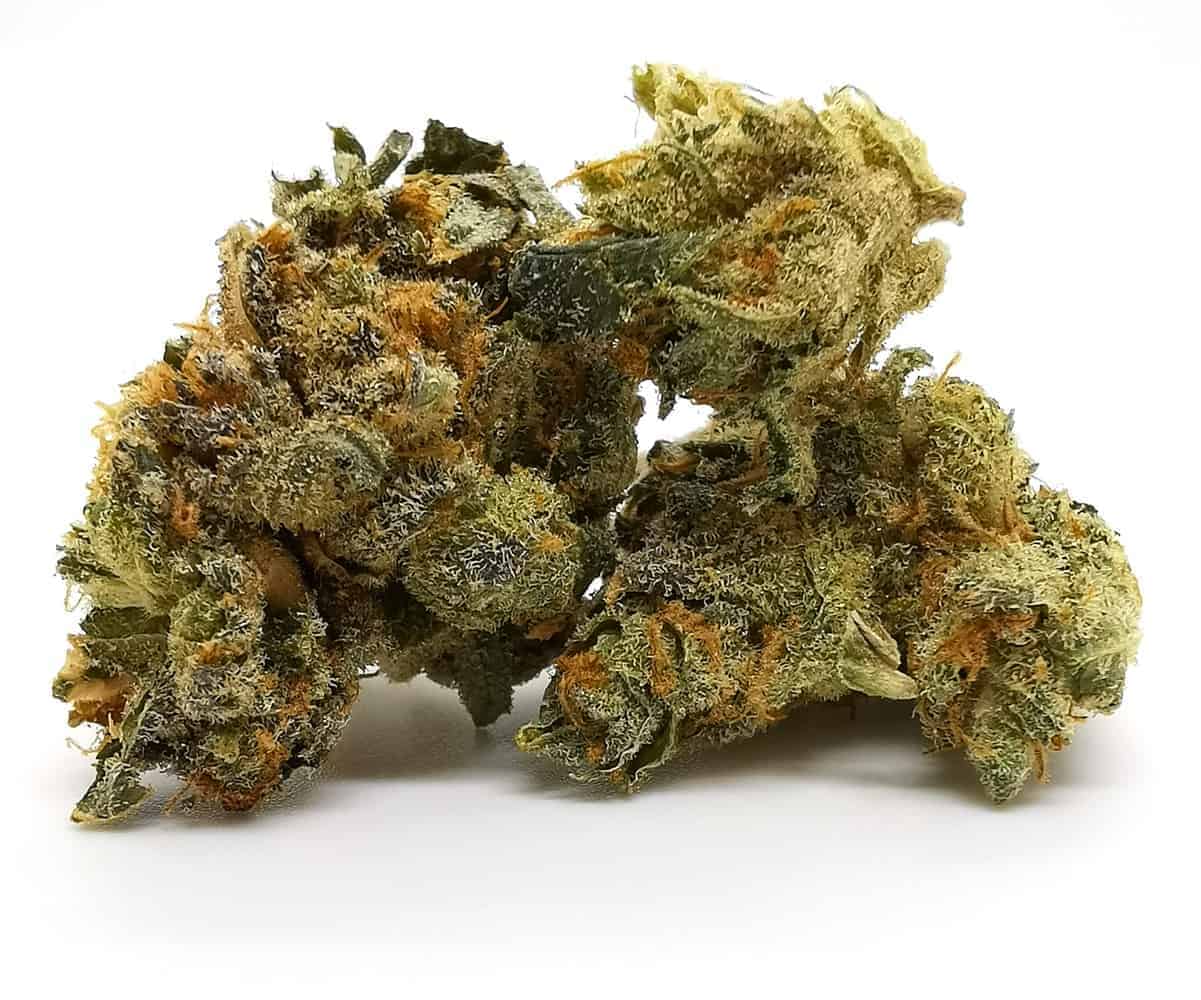 For this cannabis strain review, I tried out some  Durga Mata 2  that's made by  Namaste. It's a very light cultivar with a 2:1 ratio of CBD and THC; this one had  5.51% THC and 10% CBD  (the regular range is between 4-13% THC and 9-13% CBD). It's an Indica-dominant strain where the psychoactive effects are very light, they're countered by all the goodness that CBD provides, so the effects are quite minimal yet very pleasant.
When it comes to the lineage, DM2 was bred by Paradise Seeds, and it was created by crossing Shiva and their own Durga Mata strain.
Terpene Profile: Terpinolene, myrcene, limonene
Packaging Details: This is packaged on 12/19/2019 and tested/reviewed on 1/20/2020, exactly 32 days after being packaged.
Pricing Details: Purchased 3.5 grams for $28.40 at the SQDC in Montreal, Quebec, Canada. ($8.11/gram)

Appearance: 3/5
The "bag appeal" for this Durga Mata 2 strain was definitely present, especially when it comes to the look of the buds themselves. Although there were many little nugs, that's really what brought the score down for me. While there was no humidity pouch, the weed was fresh, sticky, and squishy while still being dense. The colors are just beautiful, as you can see, there are 2 tones of green on all the buds, light green and dark green. There's also a small amount of non-messy orange pistils all around the buds, which are completely covered in amber, healthy-looking trichomes.
Aroma: 2.5/5
I noticed an earthy and minty aroma after removing the seal from the container. The more I smelled it; there were notes of citrusy and sweet scents that started floating around the nostrils. The aroma itself isn't too aggressive; it's quite subtle, actually. It does become a little more aggressive after the herb is bid up, still though, a little something missing from the smell.

Flavor: 3/5
I found that the flavor was actually more present than the aroma and even a little different. Initially, there was a strong piney presence mixed with a touch of mint and citrus. On the exhale and the after taste, this is where the limonene terpene is very present, with sweet and even more citrusy after notes. Enjoyable taste to this strain, the smoke was smooth, and the joint burned well.
Effects 2.5/5
Although this is a high CBD strain, I really felt the Indica here; I lost a bit of energy and didn't really feel like doing too much initially after smoking this. This was quite short-lived though, I felt like all effects wore off after about 30 minutes, but the anti-anxiety that CBD provides definitely stayed. Effects are very different with everybody, and every "body" responds to cannabinoids in different ways; this is why it's recommended to always check out different reviews before making a choice, especially when it comes to the "effects" aspect.
Overall 3/5
If you're trying to feel very "stoned" and you're after strong psychoactive effects, then this strain is not the one you're looking for. However, when it comes to CBD strains, I would recommend you try this out. When it comes to beginners and people who aren't too comfortable with all the THC effects, this would be a perfect place to start. You get the flavors and aromas that this  Namaste  cultivar provides while getting all the anti-anxiety and stress relieving benefits from the high CBD percentage. If you've had a chance to try out some DM2, let me know what you think of it in the comments!