For this cannabis strain review, I tried out some Shishkaberry made by Hexo; it's up there when it comes to flavor and aroma. This is an Indica-dominant hybrid cultivar with a pretty low THC amount at 12.7% and a negligible amount of CBD. Its primary terpene is myrcene, but you can really taste and smell the ocimene as well.
Hexo did a very solid job with this one; you can see a more detailed breakdown below. Shishkaberry came about by crossing DJ Short Blueberry with an unknown Afghani strain.
Terpene Profile: Myrcene, caryophyllene, ocimene, pinene, humulene
Packaging Details: This was packaged on 06/19/19 and tested and reviewed on 12/29/2019, exactly 193 days after being packaged.
Pricing Details: Purchased 3.5 grams for $23.90 at the SQDC in Montreal, QC ($6.83/Gram)
Appearance: 2.5/5
There were a few decent-sized nugs in the 3.5 grams container, very firm as well. The myrcene terpenes stand out in this weed appearance as there is a blueish/purpleish shade surrounding a nice light green color, with light orange pistils. The nugs were very dense; they break up into a nice amount of weed.
What I wasn't a fan of is the dryness of the nugs, inside and out, and they were pretty leafy as well. There were a whole lot of crystals on the buds, leaving your fingers nice and sticky after bidding up some of this Shishkaberry.
Aroma: 3.5/5
I found that this weed smells excellent. It's a sweet and fruity type of smell; it reminded me of berries (maybe the name is messing with my brain, or perhaps they named it Shishkaberry because of how it smells (outside the lineage) I guess we'll never know.)
The smell on this weed stood out to me compared to many other strains; it's a very refreshing aroma and probably my favorite part of this entire Shishkaberry strain review. Once the buds were bid up, the smell became even more intense, with the citrusy after-tones coming out.
Flavor: 3/5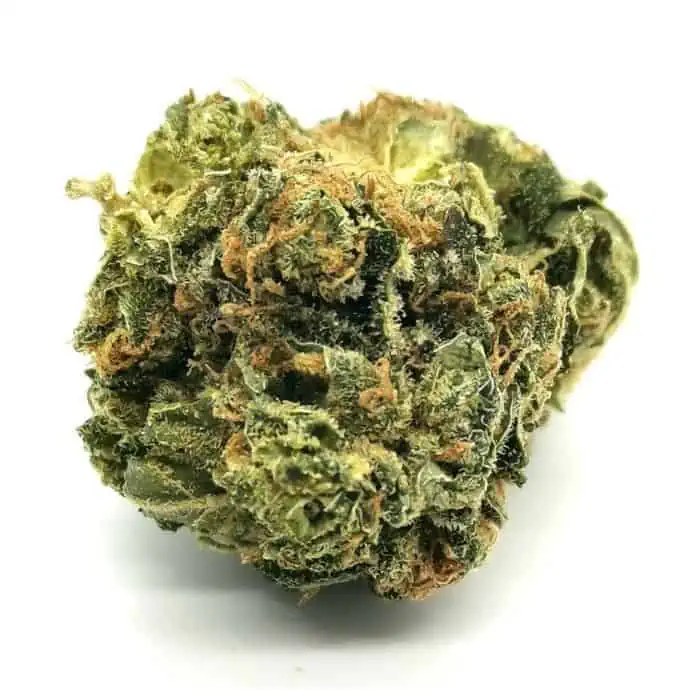 It was some very nice tasting weed; I found it to be so sweet and fruity, utterly different from most of the other strains I've tried. The myrcene is present in the taste because the aftertaste is a little citrusy, and the smoke was very smooth.
The joint burned nice and slow even though the buds were somewhat dry; I enjoyed the taste overall; it was very pleasant.
Effects: 3/5
The high was great on this strain; as you may know from some past reviews, I'm not the biggest fan of the "glued to the couch" high, but this is far from that. I had a lot of energy and was feeling pretty euphoric. But I had zero feelings of paranoia or anxiety after smoking this. The munchies weren't present with this strain,
I thought it kinda cut my appetite, actually, but that may be different with everyone. It lasted about 30 minutes, which made me finish this whole batch really fast.
Read Also: Power Sherb Strain Review
Overall: 3/5
Unlike Blue Dream, I would recommend this strain to beginners and everyday smokers. Don't get me wrong, though; although there was only 13% THC, you will definitely get high, especially if you don't smoke often. I wouldn't suggest this for insomnia, but it's really a nice "pick me up" type of strain. I also recommend you check Jack Haze Strain which is another good option.
I'd recommend this for a nice evening with friends, whether you're at home or out doing an activity. If you're by yourself, I find this strain would help with creativity or would make a funny movie even funnier. I would buy this again, for sure, and the price point is decent as well.